YourPick is a new upcoming cable service created by MightyNetworks.
Channels
MN3 (channel 98)
MN3 HD (Channel 198)
MNNow (Channel 110)
MNNow HD (Channel 111)
Mighty Kids Network (Channel 34)
Mighty Kids Network HD (Channel 134)
Your On Demand
Your On Demand is the upcoming On Demand Service by YourPick. It will feature 10 shows for the month.
Launch Party
Soon.
History of YourPick
YourPick copied TelePlay's logo and MightyPGK got caught by DragonDipperBlossom.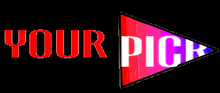 The false merger was then replaced with another logo, (Atleast something original.)
Ad blocker interference detected!
Wikia is a free-to-use site that makes money from advertising. We have a modified experience for viewers using ad blockers

Wikia is not accessible if you've made further modifications. Remove the custom ad blocker rule(s) and the page will load as expected.